The Intermediary Mortgage Lenders Association (IMLA), which represents 43 UK banks, building societies and specialist lenders, is urging government to provide much-needed clarity around the future of the Help to Buy Equity Loan Scheme (HTB) to prevent destabilisation of the housing market and preserve the ability to offer FTBs home financing.
IMLA, which represents the large majority of FTB loan underwriters in the UK1, notes that the
scheme has been well-supported by its members and has had significant success in contributing to key government targets such as helping more FTBs access the housing ladder since HTB was introduced in 2013.
To date, the HTB equity loan scheme has resulted in almost 170,000 new homes being built and purchased in England2, 81% of which were by first-time buyers. Furthermore, it is estimated that nearly half (43%) would not have been able to purchase their home without HTB assistance3. IMLA notes that this has been a major contributor to restoring UK-wide FTB lending to pre-crisis levels, with UK FTB mortgage approvals up more than a third (34%) since the scheme began.
IMLA recognises that the government may wish to review the current scope of the scheme and possibly make some adjustments, but warns against a policy cliff-edge that would leave many FTBs unable to secure a mortgage. With the support of HTB, mortgage lenders have been able to offer loans to younger borrowers who otherwise would not have been able to secure funding for a new build property under existing prudential lending criteria.
Table 1: Number of UK FTB loans originated per year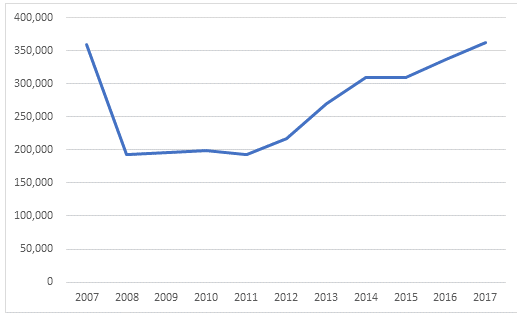 Sources: Council of Mortgage Lenders, UK Finance
In September, IMLA outlined all its concerns in a letter to the Chancellor, Philip Hammond. It was hoped that an announcement might be made at the recent Conservative Party Conference, and IMLA was pleased to note the positive reference to HTB made by the Chancellor in his speech.
Kate Davies, Executive Director at IMLA commented: "We are concerned that funding for HTB is due to be withdrawn in 2021, and that there has as yet been no clear signal as to what, if anything, might replace it.
"Given its success – and its importance in boosting both home ownership and housing supply – we believe that some form of government support should continue.
"Lenders and borrowers place heavy reliance on the scheme, and a major step-change to arrangements would risk significant market disruption and potentially undermine the Government's ambitious targets for new housing supply.
"If changes to the scheme are being proposed, lenders will need appropriate notice in order to plan ahead and deliver positive outcomes – hence our wish to have clarity as soon as possible on the Government's intentions.
"We look forward to hearing the Government's plans and to working closely to continue the development of what has become a key element of housing policy."
---
---
Notes to Editors
About IMLA
The Intermediary Mortgage Lenders Association (IMLA) is the trade association that represents mortgage lenders who lend to UK consumers and businesses via the broker channel. Its membership of 44 banks, building societies and specialist lenders include 18 of the 20 largest UK mortgage lenders (measured by gross lending) and account for about 90% of mortgage lending (91.6% of balances and 92.8% of gross lending).
To keep up to date about IMLA in the news, our reports and other announcements, follow us on LinkedIn.
---