Market growth in the second half of 2013 surprised a majority of intermediary mortgage lenders and brokers but stops short of needing government intervention, according to the latest Intermediary Lending Outlook from IMLA (the Intermediary Mortgage Lenders Association).
Almost nine in ten (86%) lenders and 60% of brokers agree that growth was faster than expected between July and December. However, most lenders (71%) and brokers (74%) feel this upward trend will not require the government to intervene during 2014 to cool the pace of growth. A further 21% of lenders and 11% of brokers are unsure.
Instead, 69% of brokers see current growth as just the beginning of a fuller recovery while another 12% feel this could be on the cards. Lenders are slightly more cautious: 43% expect a fuller recovery while 50% feel this may occur.
Confidence reflected in growing ability to source mortgages for clients
Confidence has been transformed among mortgage brokers in the last year: 90% feel market conditions are currently improving, compared with just 37% in January 2013. Just 2% saw improvements as significant twelve months ago, yet 36% now take this view.
Lenders remain unanimous that the market is improving, as was the case in July. A growing number (67%) see current improvements as 'significant' (compared with 63% – Jul 2013).
This confidence is reflected in brokers' ability to source mortgages for their clients. Just 26% were unable to source a mortgage for a prime borrower in Q4 2013, with more than twice as many (63%) having experienced this problem in Q4 2012. The same is true for near-prime borrowers: 37% of brokers failed to source a mortgage for this type of client in Q4 2013 compared with 67% in Q4 2012.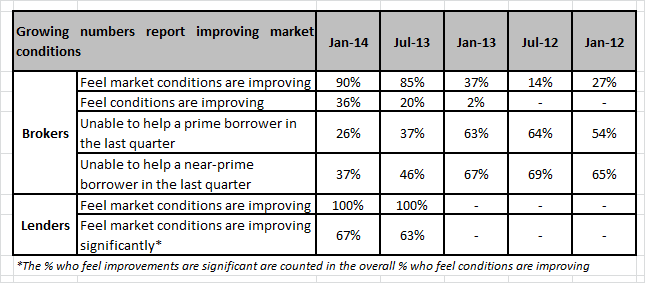 Prudent lenders keep borrowers in check
Almost nine in ten brokers (88%) report that successful applications stayed the same or improved in the second half of 2013. But despite wider availability of mortgages and greater volumes of lending, more brokers are experiencing application failure as activity levels grow.
Faced with growing consumer interest, the trend suggests lenders are keeping a close eye on affordability as applications rise¹ and staying focused on lending responsibly to those who can afford it. Growth of lending in the high loan to value (LTV) bracket means limited deposits are now the fourth most common cause of failure, having been third in July, while existing debt has risen to third.

Broker-lender relationships improve
More than one in four lenders (29%) increased the number of brokers they worked with in the second half of 2013, with just 7% reducing numbers. More lenders reported a consistent quality of introduced business in the previous six months (79% – Jan 2014 vs. 64% – Jul 2013) – although those experiencing better quality fell from 29% to 21%.
For their part, a growing number of brokers reported consistent service from lenders over the last six months: up from 45% in July 2013 to 50% in January 2014. Those who feel lenders' service improved also crept up slightly from 11% to 12%.
Better systems for applications and more information on target profiles remain broker's proprieties for lenders to address. Demand for better systems has grown from 25% to 34% of brokers, with interest in more information on target profiles also rising from 23% to 27%.
First-time buyers will drive growth in 2014
Brokers see the first time buyer market as the biggest growth area during 2014, with 30% expecting business volumes to increase by more than 10%. One in five (20%) expect the same growth among home movers while 18% anticipate more than 10% extra business in buy to let and remortgages.
Growth is expected to be fuelled by standard borrowers: 79% of brokers predict this part of the market will grow in 2014 (including 29% expecting more than 10% extra business). In contrast, 52% of brokers expect the near-prime market will grow but just 7% forecast growth in this segment to be above 10%.
¹ The National Mortgage Index from Mortgage Advice Bureau (MAB) shows purchase and remortgage application volumes were up by 55% year-on-year in the second half of 2013
Peter Williams, Executive Director of IMLA, comments
"It is easy to forget just how low expectations were this time last year, with barely a third of brokers sensing an improvement in the mortgage market and a tiny minority placing any significance on it. A host of factors have contributed to a remarkable turnaround, including better funding markets, government support, consumer confidence and the improving economy.
"A market slump breeds pessimism, which has certainly been the case in the mortgage market since 2007/8, so for growth to return sooner than expected is nothing unusual and no cause for alarm. It is absolutely right for the Treasury, Bank of England and regulators to maintain a watching brief in 2014. But the recovery is yet to bed in fully and issues such as future interest rates continue to prompt widespread debate. Unnecessary tinkering may undermine the long term goal of laying the foundations for a sustainable market that is strong enough to be self-sufficient.
"Improving relations between lenders and brokers are a big plus as new regulations bring about new working relationships from April. Preparations are well underway to keep on serving the growing number of people interested in getting a mortgage. Their chances of doing so are vastly improved compared with this time last year – but lenders are clearly focusing on affordability and are making sure those who get mortgages should be able to sustain repayments through the upturn in interest rates."
---
---
Notes to Editors
Methodology
The Intermediary Lending Outlook combines views from IMLA members – including senior representatives of banks, building societies and specialist lenders – and 1,697 intermediary mortgage brokers from across the UK on conditions in the mortgage market since January 2012.
Over 300 brokers were surveyed independently by Wriglesworth Research as part of the latest wave of research from December 2013 to January 2014. Among the respondents, 44% were Directly Authorised firms, 54% were Appointed Representatives and the remaining were unauthorised.
IMLA's membership comprises 20 lenders and accounts for over 70% of mortgage lending via intermediaries.
¹ The National Mortgage Index from Mortgage Advice Bureau (MAB) shows purchase and remortgage application volumes were up by 55% year-on-year in the second half of 2013
---