Mortgage lenders and brokers have credited Help to Buy 2 – the mortgage guarantee – with the biggest impact so far of the government's flagship two-part scheme for homeowners. But one year on from the policy's unveiling in the 2013 Budget, new research from IMLA (the Intermediary Mortgage Lenders Association) also uncovers widespread expectations that this second part of the scheme will be curtailed ahead of schedule.
IMLA's latest Intermediary Lending Outlook reveals a consensus that Help to Buy 2 has been the most critical factor in boosting access to 95% loan to value (LTV) mortgages to date. More than three quarters of brokers (78%) and lenders (77%) see this part of the government scheme as a major driver in improving conditions for borrowers with 5% deposits.
Significant numbers also credit Help to Buy with a key role in boosting the appeal of new build homes through its equity loan offering: 69% of lenders and 51% of brokers support this view.
Overall, brokers judge Help to Buy to have been more influential in restoring confidence among builders than consumers. Half (50%) see it as a deciding factor in boosting the outlook for the construction industry, compared with 42% for consumers. In contrast, 45% cite a wider range of factors behind the return of consumer confidence.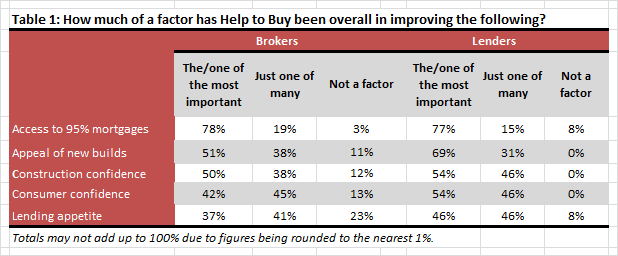 Housing inflation remains the biggest threat while concerns grow over pricing
Over-inflated house prices remain the number one threat to the success of Help to Buy according to brokers and lenders [see table 2]. IMLA's recent report What is the new 'normal'? demonstrates that mortgage lending volumes are far below historic levels in real terms, yet these new findings suggest the industry recognises the need to monitor house price growth over the duration of Help to Buy.
Unattractive mortgage product pricing is the concern which has grown the most since last summer, with 51% of brokers citing this as a threat compared with 36% in July 2013. A number of lenders have launched competitive mortgages at 95% outside Help to Buy, which helps to explain why an over-reliance on government support has become less of a worry overall.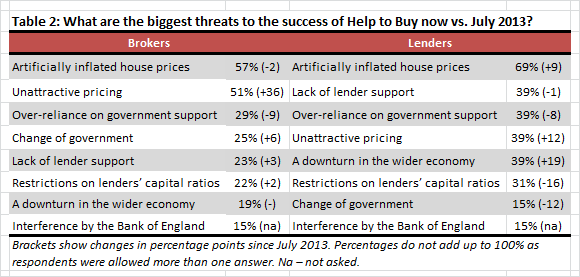 Extended shelf-life for new build equity loans?
Half of brokers (50%) and a similar proportion of lenders (46%) predict the mortgage guarantee scheme will be withdrawn early, despite its perceived impact so far. Even more (54% and 75%) expect that the scheme will be withdrawn early for remortgages, which are currently allowed under Help to Buy 2 for customers transferring their existing loan to a new lender.
Despite these predictions, all lenders (100%) and nine out of ten brokers (89%) see 95% LTV mortgages as an essential part of a healthy mortgage market. Such loans were an established part of the UK mortgage market before the downturn and Help to Buy 2 has helped to stimulate a recovery in the number of 95% LTV products available.¹
The Help to Buy equity loan scheme for new build homes is judged to have the biggest chance of being extended beyond its current end date of March 2016. Almost one in four lenders (23%) and one in five brokers (18%) expect to see this part of the scheme prolonged.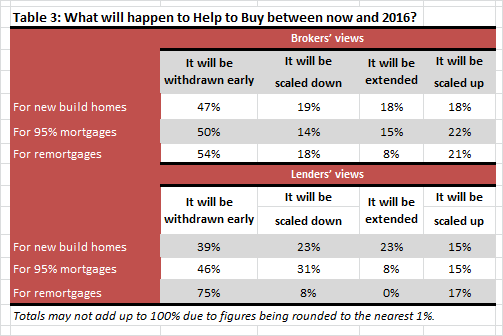 Peter Williams, Executive Director of IMLA, comments
"These findings throw the spotlight on crucial policy decisions that must be thought through to safeguard the recovery in mortgage lending and house building. The overall Help to Buy scheme has delivered a much needed boost over the last twelve months and we would certainly be looking at a more subdued supply situation without it.
"In particular, Help to Buy 2 has helped to reopen the higher LTV market after the downturn. This has done much to transform the hopes of first time buyers who can afford a mortgage but struggle to save an initial deposit. There are few clearer drivers for more homes to be built than aspiring buyers returning to the market.
"The Help to Buy factor has been important in getting growth underway, restoring a sustainable market and moving us towards a position where consumers can access affordable loans without the need for government support. Whether or not the scheme runs its full course is less important than making sure we have a self-sustaining market in place going forward. The evidence suggests that we have an entrenched mortgage market recovery which can survive its withdrawal.
"However, situations change and the industry is facing a considerable uplift in regulatory controls over the next two years. It will be essential to track how those bed in and what their consequences are for specific market segments. Armed with that understanding we can then be much clearer as to how and when we might best phase out the government schemes."
---
For further information please contact:
Andy Lane / Ludo Baynham-Herd, The Wriglesworth Consultancy
Tel: 0207 427 1400
Email: imla@wriglesworth.com
---
Notes to Editors
Methodology
The Intermediary Lending Outlook compares views from IMLA members – including senior representatives of banks, building societies and specialist lenders – and 1,697 intermediary mortgage brokers from across the UK on mortgage market conditions since January 2012.
Over 300 brokers were surveyed independently by Wriglesworth Research as part of the latest wave of research from December 2013 to January 2014. Among the respondents, 44% were Directly Authorised firms, 54% were Appointed Representatives and the remaining were unauthorised.
IMLA's membership comprises 20 lenders and accounts for over 70% of mortgage lending via intermediaries.
¹ Data from Moneyfacts shows the number of 95% LTV mortgage products available has increased significantly over the last six months up from 43 in August 2013 to 131 in late February 2014.
About IMLA
The Intermediary Mortgage Lenders Association (IMLA) is the trade association that represents mortgage lenders who lend to UK consumers and businesses via the broker channel. Its membership of 43 banks, building societies and specialist lenders include 18 of the 20 largest UK mortgage lenders (measured by gross lending) and account for about 90% of mortgage lending (91.6% of balances and 92.8% of gross lending).
---