Regulators' determination to reform the UK mortgage market has resulted in a 'layering' effect which threatens to stifle consumer access to credit if it goes unchecked, according to a new report by the Intermediary Mortgage Lenders Association (IMLA).
The IMLA report assesses the cumulative impact of new financial regulations at a time when the mortgage market is preparing to implement the EU Mortgage Credit Directive, following last year's Mortgage Market Review (MMR) rule changes.
The report acknowledges and accepts the need and 'inevitable' cost of improving the safety of the banking sector and preventing a repeat of the financial crisis.
But it warns that the common objective of building a 'sustainable' market – with enough room to deliver positive outcomes for consumers who need access to credit to achieve vital personal objectives such as a house purchase – is threatened by the sheer volume of new rules, whose overlapping effect may unwittingly tip the balance too far away from consumer choice.
The report raises concerns over regulators' potential 'bias to action' where they perceive a high cost to their reputation if they are seen to be too permissive, compared with a low risk of being too restrictive. IMLA cites the Financial Policy Committee (FPC) decision in June 2014 to impose interest rate stress tests and limit high loan-to-income (LTI) mortgage lending¹ as an example of this bias.
The actions came at a time when the effect of the MMR on the market was still unclear, and saw the fledgling recovery of 2014 followed by a subsequent downturn in mortgage activity that brought eight successive months of approvals falling year-on-year (see graph 1). Despite the slowdown, the FPC was given further powers in February 2015 to cap loan-to-value and debt-to-income levels for mortgages². These powers are as-yet unused.
Graph 1: Mortgage activity in the wake of FPC action in June 2014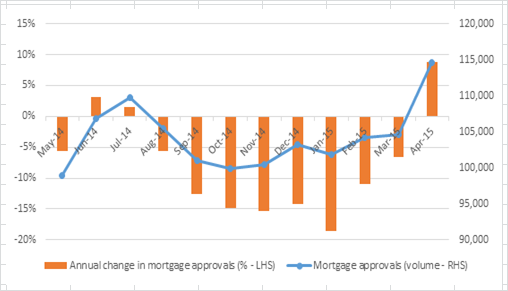 Source: Bank of England
IMLA suggests these actions support the view that regulators perceive a 'normal' mortgage market to be significantly smaller than that which existed before 2007, which has implications for access to homeownership as the UK population grows.
To prevent regulatory layering from choking off the recovery, IMLA calls on the Bank of England to maintain an ongoing review of the new regulatory framework to identify unnecessary overlap and costs. One solution it proposes is a joint Bank of England industry panel that specifically focuses on identifying areas where regulations are unnecessarily complex or duplicative.
¹ Bank of England: Record of FPC meetings held on 17 and 25 June 2014
² HM Treasury: Detail of outcome for FPC's housing market tools consultation
Peter Williams, Executive Director for IMLA, comments
"No-one is questioning the need for continued caution or the regulators' responsibilities to put boundaries in place to ensure the mortgage market is sustainable in the long term. You could also argue that regulators and industry will naturally have differing views about what constitutes 'normal' or 'healthy' activity – and this is exactly why it's in consumers' interests to put a permanent forum in place where the two can put the vast tomes of new regulation under the microscope.
"We must ensure that future regulatory changes bring genuine benefits that warrant their costs, and do not weigh too heavily on consumer access. Every new set of rules takes us further into unchartered territory and heightens the risk of unintended consequences.
"Getting the right balance between safety, efficiency and choice is the biggest challenge facing the UK mortgage market and it will take a collective effort to hit the mark."
---
For further information please contact:
Rob Thomas, Director of Research, Instinctif Partners, 0207 427 1406
Andy Lane / Will Muir, Instinctif Partners, 020 7427 1400 / Email: twc.imla@instinctif.com
---
Notes to Editors
About IMLA
The Intermediary Mortgage Lenders Association (IMLA) is the trade association that represents mortgage lenders who lend to UK consumers and businesses via the broker channel. Its membership of 44 banks, building societies and specialist lenders include 18 of the 20 largest UK mortgage lenders (measured by gross lending) and account for about 90% of mortgage lending (91.6% of balances and 92.8% of gross lending).
To keep up to date about IMLA in the news, our reports and other announcements, follow us on LinkedIn.
---