"Fully adopting the principles of MMR was always likely to involve an extended period of adjustment, with both lenders and brokers under pressure to adapt their ways of working while simultaneously staying open for business. The long-term success of MMR hinges on lenders, brokers and regulators working together to best serve consumers' interests and ensure consistently good outcomes. There is a learning curve for all involved and the publication today of the FCA's review provides more insight that will help to take this to the next stage.
"Clearly there are areas of advice and distribution that need to be strengthened. Efforts have already been initiated by lender and broker trade bodies to improve working relationships under the new regime. IMLA's own research since the introduction of MMR on 26 April last year shows both parties getting to grips with the initial challenges of implementation, but it remains a work-in-progress.*
"The principles of customer focus underpinning the MMR are widely supported by the industry and it is the right time to ask what more needs to be done to improve its delivery. IMLA will continue to use its influence to help these efforts and support lenders at a time when the upcoming EU Mortgage Credit Directive (MCD) is putting even more pressure on their shoulders. IMLA will discuss the findings with the Association of Mortgage Intermediaries (AMI) and work with them and the Council of Mortgage Lenders (CML) to update our joint guidance 'Working Together'."
*Research undertaken by IMLA in June 2014 and December 2014 sought to identify the biggest source of difficulties for brokers and lenders now MMR is in place. Respondents were asked to identify up to five issues that were causing the most difficulties.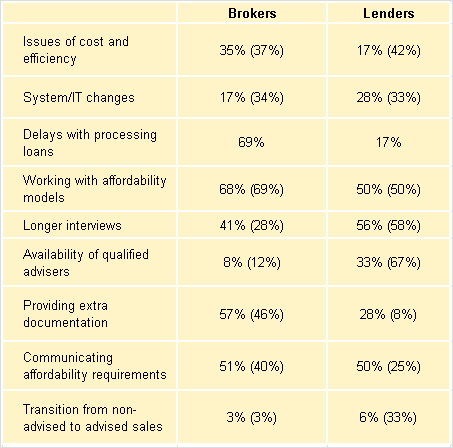 ---
For further information please contact:
Andy Lane / Will Muir, Instinctif Partners
Tel: 0207 427 1422 / 29 / Email: twc.imla@instinctif.com
---
Notes to Editors
About IMLA
The Intermediary Mortgage Lenders Association (IMLA) is the trade association that represents mortgage lenders who lend to UK consumers and businesses via the broker channel. Its membership of 43 banks, building societies and specialist lenders include 18 of the 20 largest UK mortgage lenders (measured by gross lending) and account for about 90% of mortgage lending (91.6% of balances and 92.8% of gross lending).
---