Almost half (47%) of consumer enquiries to intermediaries about getting a mortgage resulted in a completion during Q3 2015, according to the first edition of the Mortgage Market Tracker from the Intermediary Mortgage Lenders Association (IMLA).
The new quarterly tracker – supported by data from BDRC Continental – will track a variety of issues including the borrowers' journey through the intermediary channel. This channel has strengthened its position over the last year as the preferred route for the majority of consumers to secure a mortgage.¹
Its initial findings show how many enquiries result in applications, offers and completions, as well as dropout rates, those attributed to lender declines, and the wider issues of intermediaries' confidence in the business outlook for the mortgage industry, the intermediary sector and their own firm.
Data for Q3 2015 shows 67% of initial borrower enquiries led to an application, 83% of which then received a lender offer. A similar percentage of offers (84%) then reached completion.
The largest percentage of dropouts occurred during the initial stage, with a third (33%) of borrower enquiries not leading to an application. Intermediaries attributed 27% of all dropouts – equivalent to 14 in every 100 enquiries – to lender declines, with the remaining 73% of dropouts coming from client or broker withdrawals.
Figure 1: Mortgage conversions via the intermediary channel – Q3 2015 overview
Small firms report the most conversions and lender declines
Comparing intermediary business types, Directly Authorised (DA) firms and Appointed Representative (AR) firms were evenly matched with an overall 47% conversion rate for enquiries to completions, with ARs reporting a slightly higher rate of applications resulting in mortgage offers (84% vs. 81%).
The largest firms (those with 11+ employees) and sole traders both outperformed the industry average (67%) for converting enquiries into applications, with 70% of consumers progressing through this stage. Once a borrower submitted an application, sole traders achieved the highest rate of offers (87% vs. an average of 81%) and subsequently completions (88% vs. an average of 84%).
However, the smallest firms also reported the highest rate of dropouts due to lender declines: 35%, compared with an industry average of 27% and significantly higher than the decline rates reported by the larger firms.
Table 1: Mortgage conversions via the intermediary channel – Q3 2015 success rates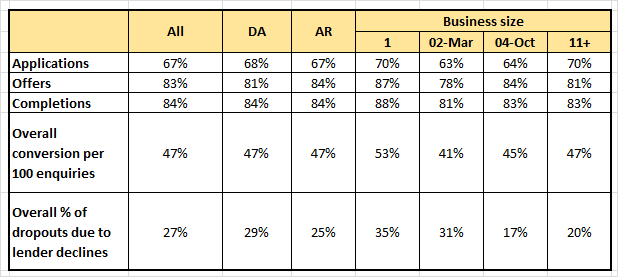 Almost four in five intermediaries 'very confident' about their business outlook
The Tracker also examines intermediary confidence in the outlook for the mortgage industry, the intermediary sector and for their own business. During Q3, intermediaries were most likely to feel very confident about their own business (78%), followed by the intermediary sector (67%) and the industry as a whole (61%).
ARs were significantly more likely than DAs to feel very confident about the outlook for the mortgage industry (66% vs 55%) and the intermediary sector (71% vs 60%). Respondents from the largest firms were less likely to feel very confident about the overall outlook for the mortgage industry (52% said this compared with 61% overall) but were more likely to feel very confident about the outlook for their own business (82% vs. 78% overall).
Peter Williams, Executive Director of IMLA, comments
"The intermediary channel has never been more important to the UK mortgage market, with consumers and lenders both increasingly relying on brokers to match individual needs to suitable products.
"Regulatory changes have brought new assessments and criteria to contend with, but this data suggests the majority of applications are getting the green light. It also shows that brokers are playing an invaluable role in the earlier stages by assessing borrowers' circumstances and providing realistic advice and recommendations.
"The advantage of a competitive marketplace with a range of mainstream and specialist players is that a decline from one lender does not necessarily mean the end of the road. Rather brokers will work to secure alternative mortgaging opportunities. As this suggests, positive customer outcomes rely on lenders and brokers working together effectively.
"After a period of fundamental change, it is encouraging that intermediaries are upbeat about the business outlook, which bodes well for consumer access to mortgage finance. By tracking the mortgage pipeline, we hope to provide useful data for both lenders and intermediaries to help fine-tune the process and ensure a positive experience for consumers."
---
For further information please contact:
Maham Uzair / William Muir, Instinctif Partners
Tel: 0207 427 1422 / 29 / twc.imla@instinctif.com
---
Notes to Editors
Methodology
The IMLA Mortgage Market Tracker uses data provided by BDRC Continental – the UK's largest independent research consultancy – as part of its established Project Mercury, a continuous monitor of intermediary lender marketing effectiveness and broker sentiment which has run since 2007.
The Q3 2015 findings are based on interviews between July and September with 301 intermediaries. All intermediaries are based in Great Britain, arrange a minimum of 24 mortgages per annum and are not tied wholly to a single lender. Findings have been weighted by firm size and type to be representative of the intermediary sector.
¹ Data from the Council of Mortgage Lenders shows intermediaries arranged 73% of all first time buyer loans in Q2 2015 (vs. 63% a year earlier), 65% of all homemover loans (vs. 56% a year earlier) and 64% of all remortgages (vs. 63% a year earlier).
About IMLA
The Intermediary Mortgage Lenders Association (IMLA) is the trade association that represents mortgage lenders who lend to UK consumers and businesses via the broker channel. Its membership of 43 banks, building societies and specialist lenders include 18 of the 20 largest UK mortgage lenders (measured by gross lending) and account for about 90% of mortgage lending (91.6% of balances and 92.8% of gross lending).
---