Over three quarters (76%) of remortgage applications via intermediaries resulted in a completion during Q2 2018 – up from 70% in the previous quarter – as activity spiked ahead of the Bank of England's widely-anticipated decision to raise interest rates above 0.5% for the first time since 2009, according to the latest Mortgage Market Tracker from the Intermediary Mortgage Lenders Association (IMLA).
For the second time in the last twelve months, the number of homeowners acting to protect themselves from the effects of higher rates and secure the most affordable deals on offer increased in the quarter directly before a much-anticipated, albeit modest, increase in the Bank of England's base rate. A similar spike in activity occurred in Q3 2017 – ahead of the first rate rise in a decade in November, from 0.25% to 0.5%. At that time, 78% of applications led to completions, an increase from 59% in the previous year.
Data from UK Finance shows that 115,00 homeowner remortgages were completed in Q2 2018, with a combined value of £20.7bn. The volume of remortgages in June alone increased by 8.4% compared to a year earlier, as homeowners prepared for the Bank of England's decision.
Chart 1: Progress of remortgage applications to offers and completions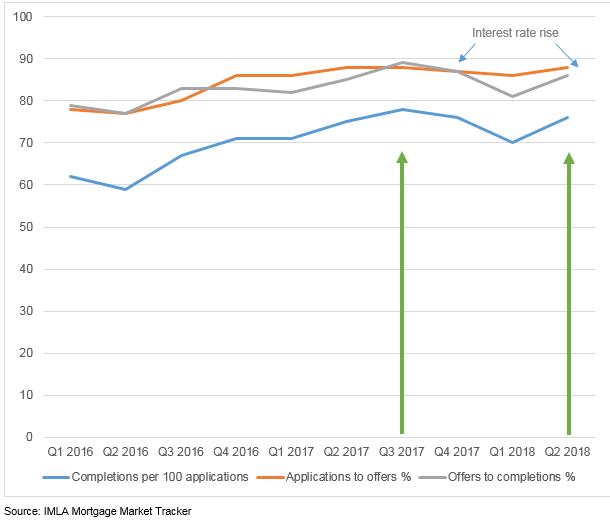 Separate IMLA research suggests that more than one in ten (11%) brokers expect the Bank of England to raise rates again before the end of 2018. Although the majority see no change, more than a quarter of brokers (28%) predict the remortgage market will continue to grow significantly in H2.
The quarterly IMLA Mortgage Market Tracker – which uses data from BDRC Continental – examines consumers' success rate in securing a mortgage via the intermediary channel, by tracking their progress from initial expression of interest (seeking a 'decision in principle' ) through to completion. In doing so, it compares the fortunes of first-time buyers, home movers, remortgagors, buy-to-let (BTL) borrowers and applicants for specialist loans.
Elsewhere in the market, the picture was generally positive in Q2 2018, with nearly 9 in 10 (88%) of all mortgage applications leading to offers. The vast majority (95%) of brokers reported having a confident outlook for the mortgage industry.
Chart 2: Rate of mortgage applications to offers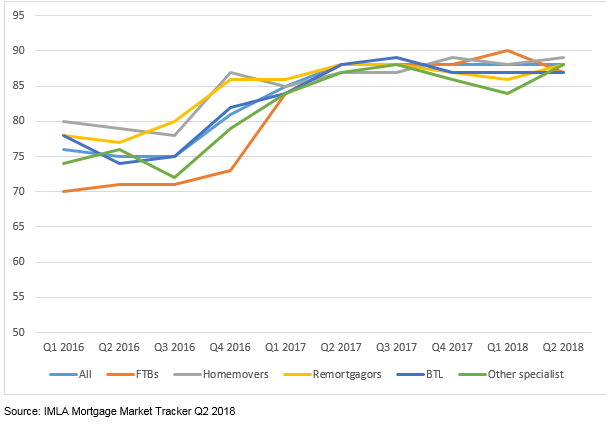 Kate Davies, Executive Director of IMLA, comments:
"The last twelve months have seen the end of a decade of record low interest rates that many borrowers have become accustomed to. The Bank of England's response to managing rising inflation had been widely anticipated by the industry and consumers, and it is inevitable that many borrowers will have sought to take advantage of opportunities to lock into very low-rate deals while these are available.
"While customers who remain on tracker and standard variable rates are having to adjust to a second increase in monthly loan repayments in twelve months, competition in the market remains strong and should ensure keen and competitive pricing. The enhanced affordability rules introduced in April 2014, following the Mortgage Market Review, were specifically designed to ensure that borrowers would be able to absorb rate increases without suffering detriment. For those who took out their mortgages before that date, some may be eligible for further support from the commitment, made by more than 90% of lenders in response to the FCA's recent Mortgage Market Report to help borrowers switch to better offers."
---
---
Notes to Editors
About IMLA
The Intermediary Mortgage Lenders Association (IMLA) is the trade association that represents mortgage lenders who lend to UK consumers and businesses via the broker channel. Its membership of 44 banks, building societies and specialist lenders include 18 of the 20 largest UK mortgage lenders (measured by gross lending) and account for about 90% of mortgage lending (91.6% of balances and 92.8% of gross lending).
To keep up to date about IMLA in the news, our reports and other announcements, follow us on LinkedIn.
---