Mortgage brokers are experiencing a Brexit 'uncertainty effect' after the largest drop in business volumes in more than two years, according to the latest Mortgage Market Tracker from the Intermediary Mortgage Lenders Association (IMLA).
Brokers have revealed that the average number of cases they handle on an annual basis dropped by 10% in Q3 2018, from 90 to 81 cases. This is the largest quarterly drop since Q1 2016, when annual average cases fell 11% (82 to 72 cases) in Q1 2016 (Chart 1).
Chart 1: Average number of mortgage cases per year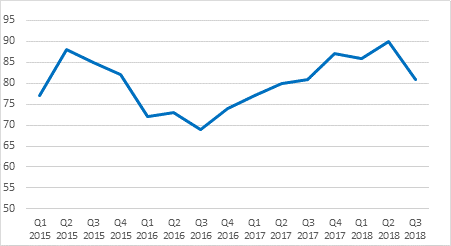 Source: IMLA Mortgage Market Tracker Q3 2018
This comes as mortgage intermediaries recognise that Brexit will adversely affect their businesses. For the first time since 2016, the percentage of brokers who professed to be "very confident" about their own business' fell, from 68% to 60% (Chart 2).
Chart 2: Business outlook for brokers' own firms

Source: IMLA Mortgage Market Tracker Q3 2018
The drop in mortgage broker activity reflects the drop in the number of mortgage purchase completions on a year-on-year (YoY) basis. According to UK Finance statistics1, the number of first-time buyer (FTB), homemovers and buy-to-let (BTL) investors in Q3 2018 all fell compared to a year ago (Table 1).
Conversely, remortgage activity continues to remain strong. Quarterly figures for residential remortgages were up more than 6%, annual remortgage activity for both residential and BTL loans grew compared with Q3 2017.

Source: UK Finance
Separate IMLA research also suggests that fewer brokers are feeling positive about the mortgage market in 2018. In H1 2018, a third of brokers (33%) felt the current market would "improve a little" but by H2 2018 that had fallen to just a fifth of brokers (20%).
The quarterly IMLA Mortgage Market Tracker – which uses data from BVA BDRC – examines consumers' success rate in securing a mortgage via the intermediary channel, by tracking their progress from initial expression of interest (seeking a 'decision in principle'2) through to completion. In doing so, it compares the fortunes of first-time buyers, home movers, remortgagors, buy-to-let (BTL) borrowers and applicants for specialist loans.
The tracker found that for those who do move forward with a property transaction, the market continues to work well with nearly 9 in 10 (88%) of all mortgage applications leading to offers.
Kate Davies, Executive Director of IMLA, comments
"These latest survey results show that sentiment among buyers and movers is currently at a low point. Whilst the Brexit negotiations remain so complex and uncertain, many people may be adopting a 'wait and see' approach before moving forward with a property purchase.
"While the national uncertainty doesn't help the prospects of our mortgage brokers, it's encouraging to see that when an intermediary does apply for a loan on their client's behalf, they are being accepted. Mortgages going from application to offer remain at more than two-year highs as intermediary lenders continue to find solutions for clients.
"It's also good to see that while fewer people are seeking finance to buy a property, the remortgage market remains strong and should ensure keen and competitive pricing for those property owners seeking a new deal.
"With signs that the Bank of England may also be adopting a 'wait and see' approach towards potential future rate rises as next March's Brexit deadline gets closer, borrowers should continue to be able to lock into attractively-priced deals before the Bank reacts."
---