First-time buyers (FTBs) saw their completion rate for mortgage offers via intermediaries reach a three-year high of 89% in Q4 2018, according to the latest Mortgage Market Tracker from the Intermediary Mortgage Lenders Association (IMLA).
IMLA's tracker revealed that the rate of completed mortgage offers for FTBs handled by mortgage intermediaries increased by 8 percentage points in Q4 2018, to 89% from 81% in Q3 2018. These figures are 20 percentage points higher than in Q1 2016, when mortgage brokers reported that only 69% of FTB offers reached completion.
This bump in intermediary activity comes as UK Finance found that the number of FTBs securing mortgages in 2018 reached its highest annual level in 12 years1. Some of the recent growth in FTBs has been attributed to the growth of Help to Buy (HTB) in allowing younger people to get on the housing ladder. According to the latest government figures, HTB fuelled around 1,000 home purchases a week in 20182. A competitive mortgage market, together with a strong jobs market and subdued house price growth, has also been a major factor in the continued growth in FTB lending.
Chart 1: Average number of mortgage cases per year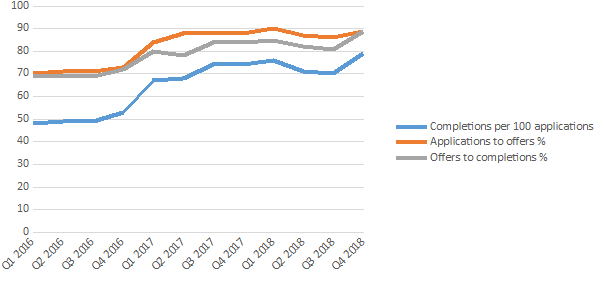 Source: IMLA Mortgage Market Tracker Q4 2018
Intermediary mortgage businesses experienced strong end to 2018
As well as strong FTB figures, mortgage intermediaries reported stronger completion rates across the board in the last quarter of 2018. Q4 saw a five percentage point increase in overall mortgage completions, up to 87% from the previous quarter, and the highest overall reported completion rate recorded by the IMLA Mortgage Market Tracker. Remortgage activity also ended strongly in 2018 with quarterly figures for up by four percentage points in Q4 to 87%.
Buy-to-let (BTL) lending was also more positive in Q4, even in the face of increased landlord regulatory obligations dampening the sector in 2018. Offers to completion rose three percentage points to 85%, according to intermediaries.
This positive trend for broker business looks set to continue in 2019 despite Brexit concerns. IMLA recently predicted that mortgage lending via intermediaries will rise to £169 billion this year as the share of lending introduced by intermediaries rises to 75% in 2019 and 76% by 2020, according to the 2019 IMLA report, The New Normal: Prospects for 2019 and 2020.
Brexit concerns still linger
Despite these positive figures, the Mortgage Market Tracker found that broker confidence has ebbed a little as brokers continue to experience a Brexit 'uncertainty effect'. Mortgage intermediaries recognise that Brexit has the potential to adversely affect their businesses, with the percentage of brokers who professed to be "very confident" about their own business falling from 60% to 54% in Q4 2018, the second dip in confidence in as many quarters.
The quarterly IMLA Mortgage Market Tracker – which uses data from BVA BDRC – examines consumers' success rate in securing a mortgage via the intermediary channel, by tracking their progress from initial expression of interest (seeking a 'decision in principle'3) through to completion. In doing so, it compares the fortunes of first-time buyers, home movers, remortgagors, buy-to-let (BTL) borrowers and applicants for specialist loans.
Chart 2: Business outlook for brokers' own firms, Q3 2016–Q4 2018

Source: IMLA Mortgage Market Tracker Q4 2018
1 UK Finance, February 2-10
2 HTB July–September 2018 figures, released February 2019
3 Defined as seeking a 'decision in principle', involving an intermediary/lender taking basic information and performing a credit search and credit score to identify a figure that 'in principle' a customer is able to borrow
Kate Davies, Executive Director of IMLA, comments
"It is encouraging to see that when an intermediary does apply for a loan on their client's behalf, they are being accepted and completed at growing rates. Mortgages going from offers to completions are at more than three-year highs as intermediaries and lenders continue to find solutions for clients.
"It's significant that intermediaries are able to demonstrate such a high success rate, especially when helping first-time buyers to navigate the complexities of an increasingly competitive and complex mortgage market. This is particularly true for those taking out Help to Buy equity loans, who may need even more expert guidance.
"IMLA predicts that mortgage intermediaries will account for a growing share of the mortgage market this year and into 2020. These figures underline our firm belief that, during times of uncertainty, people still seek out a seasoned expert to help guide them through complex financial decisions.
"That said, even in the face of such strong evidence about brokers' effectiveness, it's not surprising that brokers themselves share the current general uncertainty about the future. But, whatever the outcome of the current Brexit negotiations, we are confident that brokers will continue to play an essential part in guiding borrowers through the market."
---
---
Notes to Editors
Methodology
The IMLA Mortgage Market Tracker uses data provided by BDRC Continental – the UK's largest independent research consultancy – as part of its established Project Mercury, a continuous monitor of intermediary lender marketing effectiveness and broker sentiment since 2007.
The Q4 2018 findings are based on interviews between September and December with 300 intermediaries who are located in Great Britain, arrange a minimum of 24 mortgages per annum and are not tied wholly to a single lender. Findings are weighted by firm size and type to be representative of the intermediary sector.
Adjustments to the methodology since the pilot edition (Q3 2015) mean comparisons should not be made prior to Q1 2016. Additional adjustments to various stages of the Tracker in Q2 2017 mean that quarterly and yearly comparisons can only be made on the 'application to offer' and 'offer to completion' points in the process.
About IMLA
The Intermediary Mortgage Lenders Association (IMLA) is the trade association that represents mortgage lenders who lend to UK consumers and businesses via the broker channel. Its membership of 44 banks, building societies and specialist lenders include 18 of the 20 largest UK mortgage lenders (measured by gross lending) and account for about 90% of mortgage lending (91.6% of balances and 92.8% of gross lending).
To keep up to date about IMLA in the news, our reports and other announcements, follow us on LinkedIn.
---